Deep Lens, Inc. recognized for achievements in Best Application of AI
CB Insights today named Deep Lens, Inc. to the inaugural Digital Health 150 ranking, showcasing the 150 most promising private digital health companies in the world. CB Insights CEO Anand Sanwal revealed the final Digital Health 150 during Future of Health, a gathering of top executives across some of the largest healthcare institutions, startups, and investment firms.
"From pharmaceuticals to patient care, technology is rapidly changing healthcare, and the Digital Health 150 showcases the 150 best startups spearheading innovation and change in the sector," said CB Insights CEO Anand Sanwal. "It's a privilege to use CB Insights' data to identify and shine a light on these companies, and we look forward to tracking their success in 2019 and beyond."
The Digital Health 150 companies span the globe, from Canada, China, Germany, Israel, the United States, and the United Kingdom, and are supported by more than 850 investors.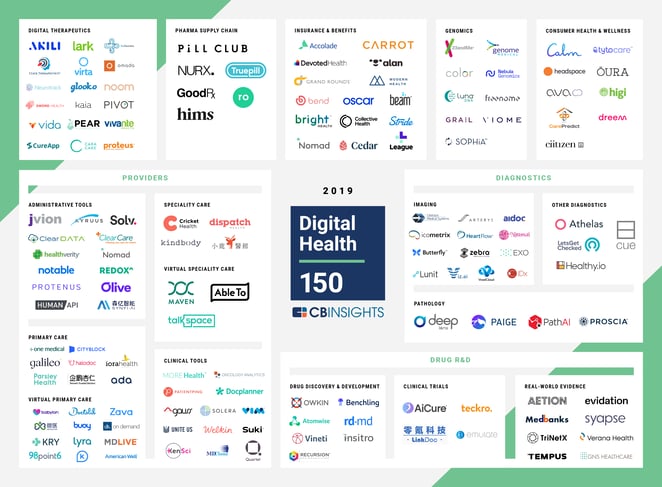 "Deep Lens is honored to be named to the CB Insights Digital Health 150," said Deep Lens President and Co-founder Simon Arkell. "It confirms that our unique approach to solving some of the biggest challenges in clinical trial recruitment using the latest AI and cloud technologies is on point. Our mission is to help cancer patients using these technologies and every one of our employees is driven by this goal every single day. We are delighted to be recognized for our efforts to date."
Through an evidence-based approach, the CB Insights research team selected the Digital Health 150 from hundreds of applications based on several factors including patent activity, investor quality, news sentiment analysis, proprietary Mosaic scores, market potential, partnerships, competitive landscape, team strength, and tech novelty. The Mosaic Score, based on CB Insights' algorithm, measures the overall health and growth potential of private companies to help predict a company's momentum.
Deep Lens has been a shining success story over the last year. Since its inception in 2017, Deep Lens has established itself as the leading disruptor in a huge market, by using AI and other technologies to advance and accelerate clinical trial recruitment in oncology, specifically commencing with the pathology of the patient and initiated at the time of diagnosis. To date, the company has raised more than $20 million from leading Silicon Valley, East Coast, and Ohio-based venture capital firms and has executed agreements with major pharma, biotech, and provider clients across the globe.
Quick facts on the 2019 Digital Health 150:
In 2018, these emerging private companies cumulatively raised $5.7B across 117 deals. They're on track to surpass these numbers in 2019, with $3B raised across 73 deals as of Q2'19.
A total of 17 companies have reached a unicorn valuation of $1B or more. GRAIL, Oscar Health, and We Doctor round out the top three most funded companies on the list.
116 of the Digital Health 150 are headquartered in the United States. Those based outside the United States include 17 from Asia, 16 from Europe, and 1 from Canada.
Over 850 unique investors have funded the Digital Health 150, with F-Prime Capital, New Enterprise Associates, and Google Ventures taking the top three spots as the most active investors.
Original article from Yahoo Finance