With the Deep Lens Unity Network growing rapidly, it's never been more important to have an experienced team to engage with our practices to provide meaningful impact on their ability to connect with clinical trial sponsors. Yancui Huang is Deep Lens' Lead Clinical Research Coordinator, and is a key part of the team that connects with our practices. Recently, Deep Lens VP of Marketing Brian Dranka sat down with Yancui to discuss her background and what makes her excited for the future of Deep Lens.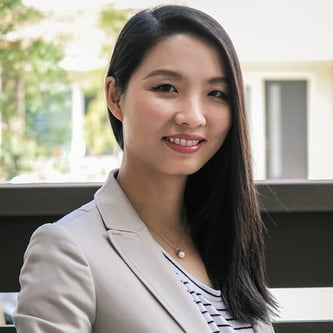 Brian Dranka: Hi Yancui, could you tell us a bit about what you do at Deep Lens?
Yancui Huang: My main role is leading all our dedicated research coordinators at each of our practices for the implementation of VIPER. I work with each of our practices as we onboard them into Unity Network and the initial phases of data integration in VIPER. We also facilitate pre-screening of patients before data integration is complete and refer patients for clinical trials to the site research team. Once data integration is complete, VIPER does a lot of the pre-screening and our role shifts to data validation and supporting the use of VIPER for research teams at our practices. We typically assist training users at those practices to use VIPER as well.
BD: So your background is in clinical cancer research?
YH: That's correct, I was the first CRC at our first practice site, working on site there. I also was a CRC working in nutrition research and nutriceuticals in the past. My interest in cancer research led me to become part of Deep Lens.
BD: Deep Lens is unique in the CRC staff we offer to our practices. What challenges are in front of you and your team as you work to pre-screen patients?
YH: I feel like the main challenge for clinical trials in the oncology field is accrual and enrollment. Because we're on site early before Deep Lens integrates with practices, we see how they're struggling to find patients. Some of our sites even have other pre-screening tools they can use, however they're still looking for help because they need more sophisticated analysis of pathology reports and other documents. For those sites that don't have those tools, they're using their EMR system which typically isn't designed to support patient identification for clinical trials. So they're struggling with the time and resource requirements. We're working to solve that problem for these practices, so their challenge really becomes our challenge.
BD: How do you think technology is helping to address those challenges?
YH: There's lots of new technology that's becoming available to clinicians and research staff. I mentioned our software platform, VIPER earlier, and the reason it's helpful to these practices is that we're using AI to for example read a pathology report and report back to the clinician. So they don't have to allocate a person to manually do the work of reading every report to identify the patients with the right diagnosis. If all patient data were well-structured in the EMR, this wouldn't be a problem, however in my experience that's simply not the case. This is where the AI technology built into VIPER helps by allowing us to digest both structured and unstructured documents and identify patients who are most likely to benefit from having a trial presented to them. Our team is involved with training the data for our AI platform, and it's great to see how this technology is going to enable clinical cancer research teams.
BD: Thanks Yancui for taking time to talk with me.
YH: Of course, great to talk about the challenges our Deep Lens team is addressing.