With the Deep Lens Unity Network growing rapidly, it's never been more important to have an experienced team to engage with our commercial partners to provide meaningful impact on their ability to connect with community oncology practices. Kara Mattox, BSN, RN, CCRP is Deep Lens' Clinical Project Manager, and plays an important role in connecting trial sponsors with qualified research sites where we've identified potentially eligible patients. Recently, Deep Lens VP of Marketing Brian Dranka sat down with Kara to discuss her background and what makes her excited for the future of Deep Lens.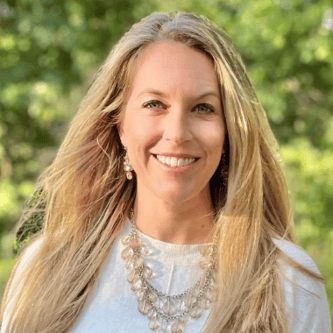 Brian Dranka: Hi Kara, tell us a bit about your background and how you get started in clinical cancer research.
Kara Mattox: Hey Brian. I have been in oncology clinical research for a little over a decade. I started out for the first six years as a Clinical Research Nurse with a couple of different large academic institutions. I did a short stint as a Clinical Research Associate with a smaller CRO, and then I ended up transitioning back to the academic institution to work as a Clinical Program Manager for the early phase oncology clinical research team. I got into clinical research after nursing school when a colleague encouraged me to consider joining a clinical research team. I was a bit surprised that I enjoyed it as much as I did, but I found it fascinating. Bringing the nursing and science together into a role that focuses so much on patient care is really rewarding.
BD: How are you using that experience at Deep Lens?
KM: Presently I am the Clinical Program Manager here at Deep Lens, responsible for sponsor relationships. I work closely with our pharmaceutical partners to learn what they need to make their trials successful, and once there's a clear alignment and understanding of what the study goals are, I work with my Deep Lens colleagues to activate the trials at the best matched Unity Network practices. Our approach helps bring new innovative treatment options to cancer patients in their own community settings, and it also helps to facilitate faster movement of clinical trials themselves. Ultimately this could lead to approval of targeted therapies at an accelerated pace, which is really exciting for me.
BD: What are the challenges that you see in the field, and what challenges are those pharma partners bringing to you to help address?
KM: So for me I think the challenges really lie within the nature of the clinical trials themselves. When I first started in clinical research oncology trials were open to much larger numbers of patients. I remember having trials open for anyone who had breast cancer, anyone who had colon cancer, we even had what we called all-comer trials, where anyone who had a solid tumor diagnosis was eligible as long as they met the other criteria. For those trials, it was so much easier to enroll patients, but the sad reality is that more patients failed those therapies than actually derived any sort of clinical benefit. And I think that is because the treatments were so broad.
We've made tons of advancements in the last decade, and the treatments are becoming more and more specialized. They target specific mutations that are really only found in these limited patient populations, so the number of qualifying patients is just so much smaller. However, people who are eligible often have a higher success rate because of that targeted therapy. I have trials right now that I'm working on where the people who have a specific mutation are only 3 to 4% of patients that have a specific diagnosis. Our pharma partners are needing to find that needle in a haystack patient, and that's exactly why Deep Lens is here doing what we're doing. And that's exactly why I chose to join this team.
BD: Yeah, that really is the core issue we're trying to solve. How are you thinking about the technology that is improving your day-to-day work to support clinical research?
KM: The technological advances over the last few years have actually made my day-to-day work possible. The possibility of remote-work environments means that I can meet trial sponsors regularly even though we're not in the same physical space. And that high-level of communication is critical to successful partnerships.
When you layer in the advances in AI for patient identification that Deep Lens is working on, I'm hopeful that we're going to continually improve the speed with which we're able to find the right patient for the right trial at the right time.
BD: Great, thanks so much Kara for taking time to talk to me today.
KM: Thanks Brian, good to talk with you as well.