Clinical trial recruitment is a process of making sure that trial leaders are getting enough of the right patients to prove the scientific aims of the study. Those aims are usually to show that the new drug or therapy works for patients with a specific diagnosis as well as or better than the current standard therapy.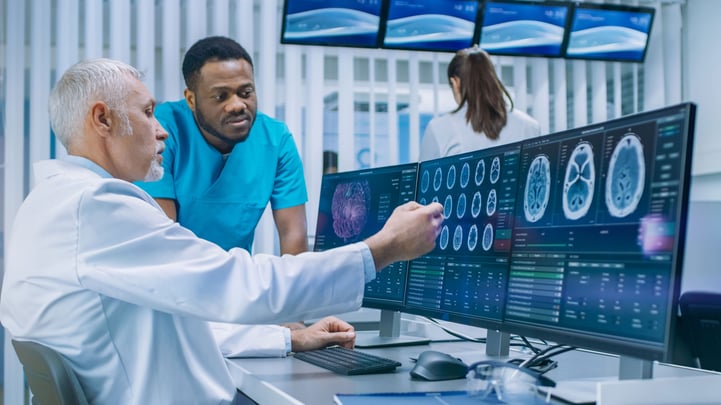 Finding more patients who are suitable for studies is becoming a challenge for every trial, and especially oncology trials because precision medicine is becoming such a large component of cancer treatment. Precision medicine means treating the specific subtype of cancer—for example, triple negative breast cancer—while also considering that individual patient's genes and other health conditions that might affect their treatment. Precision medicine, therefore, means that each patient's treatment is tailored to them.
Many oncologists and care providers are overwhelmed by the sheer amount of nuanced information and decision-making that goes into precision oncology. For example, breast cancer alone has multiple subtypes, with each subtype having a multitude of current and investigative treatment options to choose from.
If Deep Lens can give care providers more information about precision medicine, the different trials available for specific types of cancer, and the different components of a diagnosis that are required to participate in a trial, then that can help increase patient enrollment.
In addition, Deep Lens' VIPER platform will also increase the awareness and information that trial leaders see about their various studies and sites. In other words, a clinical research coordinator would receive real-time alerts to enable immediate action when patients are identified, access to all available trials and eligible patients matched to the right trials helping to boost their enrollment efficiency—not letting patients slip through the cracks. Due to a big data problem, many times those coordinators are overwhelmed with the patient enrollment process altogether, but VIPER opens a window to see how patient enrollments are flowing in, where barriers exist and where improvements to the process could be made.
Deep Lens' cloud platform combines patient diagnosis and lab information and matches it to available and nearby clinical trials of treatments for which that patient is eligible.
"The reason why we've constructed this unique business model is because too many patients are getting missed right now for trials and so they are not being presented with the newest treatment options," says Dave Billiter, Deep Lens CEO and co-founder. "We aim to change that."